The good people at
PhET
have produced a sim called "
Photoelectric Effect
." As they describe it, "See how light knocks electrons off a metal target, and recreate the experiment that spawned the field of quantum mechanics."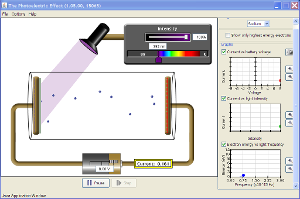 I wrote an activity to go with it. In honor of Paul Hewitt's affection for The Rolling Stones (and because it's the right title for the activity), I called it "Shine a Light."
As of this post, I haven't uploaded the instructor's notes and answers to questions. But for the adventurous among you, I think you'll find the activity very straight forward.
Shine a Light
PhET activity page.