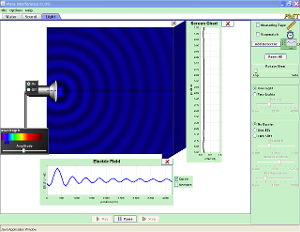 The geometry and trigonometry of interference patterns is non-intutive to students. I think it's non-intutive to most of us. Doing real lab work in this area is recommended. But the equipment and time requirements can be daunting.
This sim can be used in conjunction with a lab activity, or in place of one (in a pinch). Its intent is to develop the basic relationship governing the geometry of a two-slit interference pattern, and then to work with that relationship.
The activity uses the PhET sim,
Wave Interference
.
The Fringe of Optics (PhET page)
.