PTSOS
colleague, Dan Burns, has his students look at pixels through a small, powerful magnifier. Five years after he shared this idea at a PTSOS workshop, I finally figured out a way to make this work for my own students. (I'm kinda slow.)
It involves the use of PhET's
Color Vision
sim in addition to a magnifier.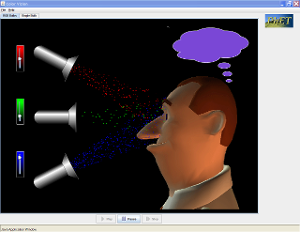 Having run a few early drafts in class, I will warn you that you'll hear many involuntary expletives of amazement while students undertake this investigation. They've been looking at displays all their lives. And they never knew what was going on at the microscopic level.
I'm always a fan of activities that get even the most jaded, "been there, done that" high school teenager to revert to the sense of wonder they had in elementary school. Even if only for a few moments. So I can recommend this one without hesitation.
Pixel Peeping at PhET